Katy Gilbert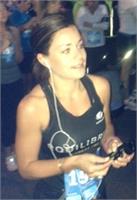 "The cure for anything is salt water...sweat, tears or the sea."
Katy's rides are like a road trip with an old friend, you cover the distance and hardly notice the time. A runner, Spin addict, Certified Personal Trainer and Nutrition Coach (health-love-fitness.com) she has seen how being healthy can change your life. She has a contemporary bent to her playlists - Ellie Goulding, The Black Keys, Adele, Florence and The Machine and just wait till she busts out her remixes of these fabulous artists.
Katy Gilbert instructs the following:
Wake up, get energized and embrace your day. A 45 minute early morning ride with a mix of music to get your day started right. Your training is done early and you have the rest of the day to bask in your accomplishment. The ride description is the same as our Tribe Ride...but earlier.




Our signature 45 minute class filled with rhythms motivating you to move. Enjoy a high energy training session guaranteed to move you along on your health and fitness path. Your instructor will coach you through variable intensity intervals, throw in some climbs, a mix of sprints and some endurance work always maintaining proper techniques to insure you get the most out of your workout. The ride is designed to strengthen your body and inspire your mind.