At age 31, Heather Schumm felt a lump that turned out to be an invasive form of breast cancer. In honor of Breast Cancer Awareness Month, Heather is letting us share her story of survival and how exercise helped her through her battle.

In the beginning of 2010, Heather and her husband, Erik, were learning how to be parents of 2 after the arrival of their 2nd daughter Genevieve, in August 2009. In May 2010, they celebrated her 31st birthday. In July 2010, she participated in the San Luis Obispo Triathlon for the 2nd time and beat her goal time. In July 2010, they celebrated their 1st daughter Annabelle's 3rd birthday. In August 2010, they celebrated Genevieve's 1st birthday. In September 2010, she was diagnosed.
While there is a lot of cancer in her family history, she certainly did not expect to get breast cancer at 31 years old. Heather share's her experience.
When you recall your experience, who/what really helped you through this time in your life?
My faith, my families (both biological and not) and my tenacity to move forward. Spending time outside, riding my bike, walking (running when I could) kept me feeling alive. When I first started chemo in January 2011, I set a goal: to complete the Disneyland ½ Marathon. That September marked the 1 year anniversary of my diagnosis. People thought I was a little crazy when I signed up, but I did. I stayed active through treatment, training when my body allowed. I finished radiation in July and I completed the ½ Marathon in September. In October, I rode 220 miles in 3 days on my bike at the Young Survival Coalition's Tour de Pink. I did it. My desire to complete these goals is one of the things that kept me going.
What advice would you give to someone with a cancer diagnosis?
You ARE a survivor. It gets easier. Get through the diagnosis shock, get your treatment plan in place so you can attack! Pretreatment plan and not knowing is the hardest part! Keep your head up and move forward one day at a time, some days one hour at a time. You will get through this and be stronger for it! If your body will allow, keep it moving. Walking and fresh air will be more important to you than ever. Put yourself first. Accept help from people around – they love you and don't know what else to do so let them help. Seek out others in your situation –other survivors can help you through this….we've been there! If I can do this, you can too.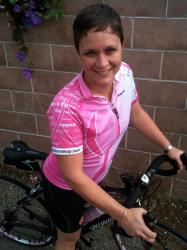 Is there anything else you would like to share?
I am so happy to have the opportunity at this point to be an inspiration to other cancer survivors. I hope that I can be the light at the end of the cancer treatment tunnel and show those with this scary diagnosis that life after treatment can be whatever you want it to be. Priorities shift, life changes – I discovered a "new normal" that is better and I am stronger than before my cancer journey. Its cliché and I certainly didn't believe it when I was in treatment but there are gifts that come along with a cancer treatment – gifts I would never give back. In addition, it is important to me to give back when I can. I have been part of amazing teams that have raised tens of thousands of dollars for cancer support groups both locally and nationwide.
Heather is a SURVIVOR. A WARRIOR. An INSPIRATION. We hope you will share her story with those who need some motivation to keep moving forward. Exercise is so important, don't stop moving.